When we think of the greatest love stories ever told, those that come to mind are Romeo and Juliet, Cathy and Heathcliff, Mr Darcy and Elizabeth, but we often forget about one of the strongest and longest relationships ever known, at least in the realm of sci-fi, and that is the Doctor and the TARDIS.
The Doctor's Wife was a celebration of the bond between Doctor and TARDIS, a heart-warming episode written by legendary sci-fi writer Neil Gaiman. Gaiman is clearly a fan of Doctor Who and brought much care and attention to the script, taking the simple concept of man and machine, and creating an original story of love, heartache, and triumph. The Doctor's Wife was just lovely.


Episode 4 Review: Man and Machine
On planet junk-yard, population four, there is some strange activity taking place. It's a stinking, tattered and battered, muck-heap of a planet, occupied by Auntie, Uncle, Nephew, and Idris, a group that make the Addam's Family look like The Waltons. Idris, looking like a Tim Burton interpretation of Queen Victoria, is having her mind and soul drained by Nephew, a mute Ood, in order to leave an empty shell of a body. Why is this happening? Well, as Auntie explains, "They'll be a Time Lord coming!"


The Doctor receives an email inbox (Do you get it? In-box? Because it's in a box? Ok, I'll stop), a psychic container used by Time Lords to send their thoughts through time and space, meaning, there is another living Time Lord somewhere! This particular Time Lord, the Corsair, always marked himself with a snake-like tattoo, "He didn't feel like himself without it, or herself a couple of times. Ooh she was a bad girl!" - wait a minute, rewind, did he just say "herself"? Yes, that's right, after years of theorising and speculating, we finally have it confirmed that Time Lords can regenerate in to both genders, meaning we could very possibly have a female Doctor one day, in fact, I'd say the chances were extremely high, otherwise why drop in that game-changing information at this point?

*Detour - Female Doctor Candidates*

Let's take a brief moment to do some idle fan-speculating on who, if anybody, could play the role of a female Doctor. It's a controversial subject amongst the hardcore Whovians, and if they were to introduce a female Doctor they would have to be very careful in how they did it. There could be a danger of "sexing" the Doctor up, and drawing heavily on their looks rather than their acting ability, turning Doctor Who in to Hollyoaks with aliens.

Earlier this year SFX readers voted on a poll to whom they would like to see as the first ever female Doctor, and topping the poll was Helena Bonham Carter, a great actress but an obvious choice, perhaps a little too obvious, and too kookily self-aware. Also featuring on the list was Keeley Hawes, although after having the lead role in Ashes to Ashes I think that should rule her out, and also Emma Watson, who I have to admit would be an intriguing choice, as we haven't had a chance to see her tested in a role outside of Harry Potter.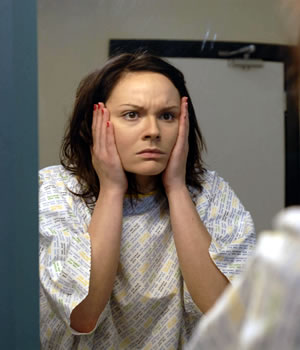 But my personal pick would be Rachel Stirling, a much more interesting actress who is not overtly "sexy", and I don't mean that as an insult, she is a very attractive woman. But she is an actress that I think could bring a unique look to the role, as well as handle the heavy-duty acting. But anyway, lets get out of fan-boy mode, and return to The Doctor's Wife.

*Detour over*


As the Doctor and the Ponds arrive on planet junk-yard, the soul of the TARDIS is drained, and transferred into the body of Idris. Planet junk-yard is located just outside of the universe, a tiny bubble on the outside of another bubble as the Doctor puts it, and then dismisses as gobbledy-gook, "…but if it helps then yes."
The Doctor is soon set-upon, or more like harassed, by Idris, who refers to him as her "thief". Idris is deliciously bonkers, running around like a mad woman, kissing and biting the Doctor, and getting her tenses all mixed up "You're going to steal me. You have stolen me. You are stealing me." Of course, we know what the Doctor doesn't know, this is his TARDIS speaking, hence the foreshadowing dialogue such as "The little boxes will make you angry."


Suranne Jones is sublime as Idris/TARDIS, striking a perfect balance of insane and pathos, while being simultaneously odd and sexy. If Jones hadn't appeared in Doctor Who twice already, she'd be my number one candidate for a potential female Doctor. Her performance was captivating, and hopefully will lead to more versatile roles for such a talented actress, rather than playing sour-faced characters in depressing ITV dramas.
Also wonderfully weird were Auntie and Uncle, played by Elizabeth Berrington and Adrian Schiller, "patchwork people" as the Doctor described them, made up of different body parts from the various creatures that have been lured to planet junk-yard. They were repaired by House, not Hugh Laurie, the omnipresent soul of the planet, voiced by a very stern Michael Sheen.
Auntie and Uncle do House's bidding, as does Nephew, a silent Ood, from which the Doctor picks up more distress signals from other Time Lords. The Doctor doesn't understand how this is possible, believing all Time Lords to be long deceased, and he demands to know who and what House is, and Auntie and Uncle offer to introduce him.


The Doctor goes on the search for the Time Lords, or perhaps more importantly, in search of forgiveness. When Amy reminds the Doctor that he killed off the Time Lords, she asks him "You want to be forgiven, don't you?" and he responds "Don't we all?" It is an entirely human emotion from the Doctor, and as Amy also points out, when the Doctor becomes emotional he is prone to making mistakes, and he must know it too, because he sends Amy and Rory back to the TARDIS on a wild-sonic screwdriver chase, to protect them.


Instead of Time Lords the Doctor discovers more boxes, each one of them transmitting a distress signal. "Cries for help from the long dead." The Doctor was tricked, lured to planet junk-yard just like many Time Lords before him. This makes the Doctor angry, and I love him when he's angry! He interrogates Auntie and Uncle, questioning how House repairs them.

"You have the eyes of a twenty year old."
"Thank you."

When the Doctor realises that Auntie has the Corsair's arm it pushes him over the edge, "You gave me hope, and then you took it away. That would make anyone dangerous, god knows what it will do to me."


"She's a woman, and she's my TARDIS." Idris explains to the Doctor that she is the TARDIS, describing how she was once a museum piece, "You stole me…and I stole you." This entire scene is brilliant, with Smith and Jones (not that Smith and Jones) bantering back and forth like they have worked with each other for years, "My TARDIS?"…"My Doctor!". It's a 50 year relationship that for the first time has been given a voice.
We learn that House eats TARDISes, he lures Time Lords to his planet, kills them, and feeds off the energy that TARDISes provide. But to do this he needs to remove the TARDIS consciousness, but as Idris explains, he can't just delete it because that would blow a hole in the universe, so instead he transfers it in to a living receptacle, in this case, Idris. But the TARDIS can't survive for long in a flesh body, and if the Doctor can't get Idris to the box in time, the TARDIS will die.


Meanwhile, House is about to devour his latest TARDIS, and because of the Doctor's mistake, Amy and Rory are trapped inside. Gaiman really excels here, as he turns the interior of the TARDIS in to a labyrinth of horror for the Ponds, and for the first time since the 80s I believe, we get to see TARDIS corridors. But even though we are seeing more of the TARDIS, it feels as claustrophobic as ever, as House begins to play mind-games with the Ponds.
The scene with the old Rory was disturbing, and allowed Arthur Darvill to show a different side from the usual lovable idiot. And once again we get a "dead Rory" scene, but I much preferred this to last week's CPR stunt, the rotting skeleton surrounded by the graffitied walls reading "Hate Amy", "Kill Amy", "Die Amy" was very effective.


"All of my sisters are dead, they were devoured, and we are now looking at their corpses," says Idris, but the TARDIS deaths weren't in vain, because their broken remnants have a purpose. While the Ponds are stuck in their hellish maze, the Doctor and Idris attempt to build a make-shift TARDIS out of the scraps from the junk-yard, it's like a bit from Blue Peter, all you will need is an empty egg-carton, an old shoe-lace, and some sticky-back tape.

We have another great exchange between Doctor and TARDIS as they search for useful tools in the junk-yard, the Doctor complains that "You didn't always take me to where I wanted to go," but the response resonates with the Doctor, "No, but I always took you to where you needed to go." It's the truth, and the Doctor knows it, and he knows that he can't be without the TARDIS, just as the TARDIS can't be without him.


Using her soul energy to power the make-shift TARDIS, the Doctor and Idris head off to stop House. They send a telepathic message to Rory, the pretty one, with instructions to find the old control room, so that they can turn off the security and allow the Doctor back in to the TARDIS. The make-shift TARDIS, with its lack of outer-shell, looked really cool, very old-school.


House is annoyed that Amy and Rory found the old control room, which he had no idea existed. It felt kind of strange seeing the old Eccleston/Tenant control room. House orders Nephew to kill the Ponds, but before he has the chance to, the make-shift TARDIS materialises right where he was standing, redistributing him in to the ether - "Another Ood I failed to save."
House deletes the old control room, hoping to delete those inside it at the same time, but instead of being deleted, the Doctor and co are sent to the main control room, and once back in there, the TARDIS soul can leave Idris's body and return home. House tries to intimidate the Doctor by claiming to have killed hundreds of Time Lords, but the Doctor has a quick reply, "Fear me, I've killed all of them", definitely more intimidating. The TARDIS soul reenters the box and destroys House in the process, who is unable to match the power. "Look at my girl, look at her go."
What follows is one of the most emotional scenes I've seen in Doctor Who. Hello's shouldn't be this hard! The word that Idris had been looking for all episode was "alive", a sad, complicated word. The Doctor explains that "alive" isn't a sad word, and then have the tissues at the ready, "It's sad when it's over." And if you weren't already blubbering like a five year old who has just buried his pet hamster, then the next bit surely set you off, "I just wanted to say hello. Hello, Doctor, it's so very very nice to meet you." And Matt Smith tops it off with his heartfelt "Please, I don't want you to."

Matt Smith is bloody excellent in this episode, and I know I haven't seen enough of the previous series to judge properly, but for my money he is the best Doctor. His range here was simply spellbinding, from anger, to joy, to humour, to confusion, to fear, to unashamed sadness. Smith is gripping to watch, and I hope his run as the Doctor continues for a long long time.


I love that last image of the Doctor fixing the TARDIS. He looks like a mad scientist, and you truly get a sense of what Amy means when she says "It's always you and her, long after everybody else." It's true, through all the companions, friends and even villains that have walked around the TARDIS, they all come and go, but the bond between the Doctor and the TARDIS is never broken, it lives on forever, and we all knew that, we just never had that story told in such an enthralling, emotional way, and that's why I consider The Doctor's Wife one of the all time great episodes.

A couple of stray points worth theorising about. "The only water in the forest is the River," is what Rory said Idris kept repeating, referring to something that hasn't happened yet. The immediate thought is to River Song, but even with that it does little to explain the significance of that sentence. "The only water" could relate to some sort of choice between Amy Pond and River Song, as both have water-based names. The "forest" could be a call-back to River Song's first appearance in The Silence in the Library/The Forest of the Dead. It's certainly intriguing.

And the other point, which is probably nothing, but it had me thinking. In the scene where Auntie and Uncle die, this exchange takes place:

"Now House is off to your universe to find more TARDISes."
"It won't."
"Oh he'll think of something."

I'm wondering if that exchange relates to the Little Girl? What if House wasn't destroyed, merely pushed out of the TARDIS and now his energy is floating around the universe? Could it perhaps be the soul of the TARDIS occupying the Little Girl's body? It's a long shot, and not a theory I'm actually standing by, but it's worth thinking about. I tend to think this was a one-off episode, and that we have seen the last of House.


The Doctor's Wife is the embodiment of a 50+ year love story, a sympathetic portrayal of man and his machine, and the affection shared between them. Neil Gaiman with his knowledge and passion for Doctor Who, took the most basic of concepts "The Doctor and his TARDIS" and added his quirky, original, and quintessentially British touch, and provided us with an entertaining, emotional journey, that I'm sure all Who fans, young and old, were more than satisfied with. Just as the Doctor and the TARDIS and meant for each other, so is Gaiman and Doctor Who, and I hope to see his name on the credits for many future episodes.

The Doctor and the TARDIS, a marriage made in space.


by Martin Holmes

The Impossible Astronaut Review: http://bit.ly/esSJmD
The Day of the Moon Review: http://bit.ly/iMyZ1f

The Curse of the Black Spot Review: http://bit.ly/iTFn59