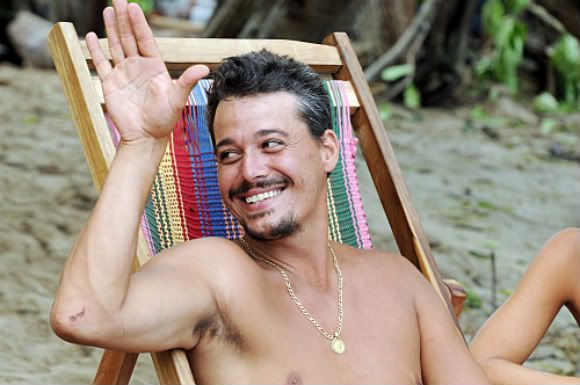 "I wanna win Survivor. This is something I've been trying to do for ten years now."
Other than "What in the hell ever happened to Colleen Haskell?", the most important question when it comes to Survivor is "Is Boston Rob capable of winning the game?" And this Sunday we find out, as Rob Mariano heads in to the Redemption Island finale as the clear front-runner for title of sole Survivor.

The Marquesas Years: Charm, Fear, and Chickens


"It's important for me to have people on my team that are gonna do what I tell them to do, and not know that I'm telling them to do it."

Survivor fans were first introduced to Rob Mariano in February 2002, on Survivor: Marquesas. Back then Rob was the young, punk-kid with the cheeky smirk. He had no family of his own, no wife to provide for, no children to support - he was care-free and didn't mind showing it. Unlike the Rob we know today, he wasn't concerned with working hard around camp, he wasn't the one starting fire from scratch, building the best shelter, or dominating challenges. The most work Rob did was aimlessly chasing a chicken around during the first three days, one of the all time classic Survivor moments. (http://youtu.be/mwIkaFT5O7w)
While the other members of Rob's tribe, such as the all-American masculine hero Hunter and trusty girl-scout Gina, were maintaining camp-life, Rob spent most of his time flirting with Miss Cleopatra herself, Sarah Jones. It wouldn't be the last time Rob would take part in a Survivor showmance, although his fling with Sarah Jones was no where near as effective or meaningful than his one with Amber Brkich in Survivor: All Stars. The pair's continual flirting started to rub some of the tribemates the wrong way, and in previous seasons it would have been the perfect excuse to vote out both Sarah and Rob, but Marquesas was a little different.  
Survivor: Australian Outback and Survivor: Africa, the two preceding seasons to Marquesas, had followed the understandable if not predictable "keep the tribe strong" mentality; with two young, physically fit, challenge orientated competitors making it all the way to the Final 2, that being Colby Donaldson and Ethan Zohn. Nobody had truly questioned the status-quo, or rocked the boat too much in the first three seasons, nobody had thought outside of the box, until Boston Rob.
Rob, along with his partner in crime, Sean Rector (who by the way, is one of the funniest contestants in Survivor history, and more than deserving of a second chance at this game), would keep the tribes' spirits up with their charm and their humour. The Marquesas Morning Radio Show is a prime example of this, and its moments like these which are lacking from the strategically dominated seasons nowadays.

Rob made people want to be around him, if he could distract them from the game, just for a few moments, that was all it took. Instead of sucking up to the worker-bees, Rob appealed to the "outcasts", those who were perhaps weaker either physically or mentally, and who didn't have the survival skills or the challenge strength to save themselves. It didn't matter if they lost challenges, it didn't matter if they couldn't build fire or catch food, all that mattered to Rob was whether he could control them or not - and so, The Robfather was born.
"Fear keeps people loyal," is one of the infamous Survivor confessionals, and the first spark we see of Boston Rob the strategic mastermind. Richard Hatch played an incredible strategic game in Survivor: Borneo, and controlled the game like very few have been able to do, but his strategy was fairly straight-forward, create a four-strong alliance to act as a voting block, and take out everyone else who stupidly hadn't figured out they were playing a game for $1 million. He deserves all the credit he gets, because it was the first ever season, and he took the initiative to play in a certain way, and it paid off for him (at least in the short-term anyway!). But since then no one had really tried to take control in such a strategically thought out way, but Boston Rob was ready to be the successor.

When everyone wanted to eliminate Sarah, Rob took his band of misfits and ousted Patricia. When Hunter and Gina wanted to target Sean, Rob and his alliance voted out Hunter, in what was probably Survivor's first big blindside. Rob had his core-alliance of four, and the game looked to be in his hands, until came the dreaded tribe-switch.

Rob, Sean, and Vecepia, now split up from Sarah, found themselves in the minority of the new Rotu tribe, and Rob wasn't pleased, and decided to rip on his new tribemates, in what is a both an offensive yet hilarious confessional.
With Sarah and Gina getting voted out of their new tribe, when the merge arrived Rob's alliance was seriously outnumbered, and although they managed to convince Kathy to abandon the Rotu alliance, it wasn't enough, and Rob was voted out just before the jury. It was a disappointing end for a player with so much potential, but he was young, brash, and over-confident, he became too comfortable, and didn't take in to account the many twists Survivor can bring. Luckily, Rob got to prove his worth, when he was invited back for Survivor: All Stars in 2004.

The All-Star Years: The Robfather II


"I've been playing the game since the second that I got here. It's all a game, everything. Make no mistake about it, I am playing the game."

Two years later and Survivor was a still a big show, but had lost a significant portion of its audience from the massive Borneo and Australian Outback seasons, which saw ratings reaching upwards of 50 million. The producers and audience were ready for the first ever All Stars season, from a fan stand-point it was that thrill of seeing the "best-of-the-best" play against each other, from a production stand-point it was an opportunity to regain those viewers who left after the first two seasons. This would explain the majority of the returning contestants coming from Borneo and Australian Outback, and the inclusion of Jenna Lewis and Amber Brkich, as replacements for Colleen Haskell and Elisabeth Hasselbeck, who turned down the offer to appear.
Although Boston Rob had failed to make the jury in Marquesas, he was a big character, and someone that had tons of potential. Marquesas wasn't a season with huge characters that made it far, so the choices for All Stars were limited to Kathy, Sean, Neleh, and Rob. Kathy was an obvious choice, and easily made the cast, and as the young girl quota was already accounted for by Amber and the two Jenna's, the only other place was for a male, and from what I understand Sean was the top candidate for quite some time, but for what ever reason he was passed on for Rob. Personally I'd have liked to have seen both Rob and Sean on All Stars, but if it comes down to either or, I'd pick Rob as he brings a much more strategic game.
Rob hadn't changed too much personality wise, he was still a joker, liked to keep tribe spirits up, and still had that cheeky smirk. But the big difference was the focus, where Rob might have been a little too laid-back in Marquesas, in All Stars he had a steely determination that couldn't be broken. Much like how Richard Hatch had turned up to play in Borneo while everyone else was having a vacation, the same could be said of Rob in All Stars. Many of these contestants had formed strong personal relationships outside of the game, and add that to the fact they were getting paid big bucks to appear, All Stars to most of them was a bit of fun. Contestants like Colby for example, didn't have their heads in the game at all, but Rob had shown up to play, and he didn't care about friendships from the outside, Survivor was a separate world, and whatever happens in that world is fair-game.
Rob quickly formed an alliance with Amber, although alliance is kind of the wrong word, it was more of a partnership, that soon became romantic. It was the first proper Survivor love story, and dominated the season's storyline, but not as much as Rob dominated the game. Rob didn't just have a sharper strategical focus, he was ready to go all out in the challenges too, and became what is affectionately termed a "challenge-whore", beating former challenge-animals such as Colby, Ethan, and Lex.

When it came time to vote people off, Rob made sure to swiftly dispose of his strategic competition, and sent all-time great players like Rob Cesternino with a one way ticket to Losers Lodge. Rob and Amber's bond was unbreakable, and all they needed to make it to the end was a merry-band of followers that could be easily manipulated, and just like in Marquesas, Rob approached the less strategically inclined players, such as Rupert, Big Tom, and Jenna Lewis, and put them under his spell.


Rob truly was The Robfather, making deals all over the place, and cutting them once they had fulfilled their benefit to him. The most controversial of those deals, and one that will forever live on in Survivor lore, is his deal with Lex.

Although no person could break up the duo of Rob and Amber, they did find themselves briefly separated due to a tribe shuffle, but this time Rob wasn't about to let this unfortunate twist ruin his game, and after an immunity challenge victory he side-lined Lex and asked him to spare Amber, "You take care of her, I'll take care of you." Lex took this as a friend asking a favour, because in real life Lex and Rob had formed a solid friendship, and so Lex voted out his own alliance member Jerri, and saved Amber, believing that Rob would have his back later on. But Lex was mistaken, this had nothing to do with friendships, this was simply The Robfather playing the game, and come the merge Rob had to cut his friends Lex and Kathy, regardless of what they did for him and Amber.

Lex took this deeply personal, and from what I understand, Lex still holds a grudge against Rob to this day. The scene where Rob explains to Lex and Kathy that there's nothing he can to do save them is as intense as it gets in Survivor, and it is a key example of the type of control Rob had over the game. Kathy sums up Rob pretty well in her confessional: "Despite the fact that Boston Rob's a really nice kid, there's something inside of him that came out in Marquesas that is still here." That was damn right, and that something is "game", and it was stopped-short in Marquesas, but in All Stars it was evolving in to an unstoppable monster.
Lex and Kathy weren't the only ones that Rob betrayed. Big Tom and Rupert also got dropped after Rob had finished using them. In one of Rob's best master-manipulator tactics, he instigates a fight between Big Tom and Rupert, after sensing that they may align together to take him out. It had its desired effect and squashed any potential resistance against the Rob and Amber alliance, and at the next tribal council, Big Tom was blindsided, and Rupert followed shortly afterwards.
Big Tom was another one that thought friendships existed in this game, and because of that punished Rob when it came to the final vote. Rob had played the game so hard, and was so determined to take himself and Amber to the finals, that he didn't care about who he backstabbed and how he did it, as long as his ultimate goal was reached. But in doing that he forgot a key element of playing Survivor, and that is jury management, you have to able to convince those you voted out to come back and vote for you to win in the end.
I'm not one of those Survivor fans that follows the "bitter jury" opinion, I generally believe that if you make it to the end and get the votes, then you deserve to win. I believe Natalie deserved to win over Russell (although I can see arguments for why Russell should have won), and I believe Sandra deserved to win over Russell and Parvati (although I can see arguments for why Parvati should have won). But if any season has any validity to the "bitter jury" argument it is All Stars, and it's down to the personal relationships that were formed outside of the game, and because Rob betrayed those, he received anti-votes, and therefore lost the game to Amber. He came close though, the vote was 5-4, and even though his name wasn't on the cheque, he married the winner, and they are still together to this day.



The Heroes vs Villains Years: Maturity


"…I'm probably still the same person at my core, but there are some things about me that have changed, I'm a family man now, I'm a husband, and I'm a father."

In the years following All Stars, Rob and Amber over-saturated themselves, having their wedding televised on CBS, and appearing on two seasons of The Amazing Race, the first of which they finished as runners-up. But after that things went quiet, as Rob and Amber settled in to the family life, and in July 2009 they had their first daughter, Lucia Rose. And then, CBS came a knocking again. It was Survivor's 10th anniversary, and 20th season, and the theme - Heroes vs Villains, and you can't have a villains tribe without Boston Rob.
What kind of Rob would we be getting this season? Was The Robfather still lurking? Yes, he certainly was, but this time he was much more mature. After living the married life, and starting a family of his own, Rob had become a little softer, not much, but it was definitely noticeable. Unlike his lazy Marquesas days, Rob was now the worker, he was the Hunter of the tribe, and made sure the shelter was built, that food was available, and he did what very few contestants have been able to do, and that is start fire from scratch. Rob took the leader role from the very start, and lead his tribe to many immunity victories in the first portion of the game.
But he still had his charm and his wit, and formed early friendships with Tyson, Sandra, and Courtney, and with the inclusion of Coach and Jerri, Rob immediately had the numbers on his side. But unfortunately, Rob fell back in to his Marquesas flaw, and that was been too comfortable with his position. This wasn't like the first All Stars, people weren't scared of making big moves or backstabbing in case friendships were tattered, everyone was fully aware it was a game, and Rob was in a tribe with arguably one of the greatest players in Survivor history, Parvati, and one of the most ruthless contestants, Russell Hantz.
Although Rob's downfall was partly due to Tyson's paranoia, which got so overwhelming that the moron ended up basically voting himself out, credit has to be given to Parvati and Russell for getting in to Tyson's head. After Tyson's elimination, Rob lost his grip on the game, and with that, Jerri and Coach flipped to the opposing alliance, and Rob was voted out. Things looked so promising, Rob had it all going for him, he still had the wits, the charm and the confidence, but was now also an asset around camp, and a challenge destroyer - but he failed to realise that the strategic game was happening much faster than he anticipated.
Rob was perceived by many as a hero in Heroes vs Villains, someone that had done away with his bad habits of the past, and had become a mature, trustworthy, likeable man. The thing is, we never had the chance to see the re-emergence of The Robfather because Rob never made it that far, if Rob would've made the merge, who knows what type of game Rob would've had to play? Well, we are now seeing what kind of game Rob plays when he goes deep.

The Redemption Island Years: The Culmination
"No one man should have this much power. Luckily, I'm no ordinary man."
Just  one year on from Heroes vs Villains, Rob was invited back to play Survivor for the unprecedented fourth time. Overkill? Perhaps, but I've personally always enjoyed watching Rob on Survivor, and at least his seasons have been spread out over the years, unlike Russell, the other returning contestant this season, that has played three times in just over two years.

This entire season was set up around the theme of "redemption", hence the title Redemption Island, the twist being that those voted off have a chance to re-enter the game should they survive long enough on redemption island, where they compete in duels. Along with that twist was also the concept of Rob vs Russell, who had butted heads in Heroes vs Villains, this however never came to fruition, as Russell was quickly disposed of by his tribe in their first tribal council.
But this season has really been about Rob's redemption, it is his chance to prove that All Stars wasn't a fluke, that he is one of the game's all time greatest players, and that he is capable of winning. This is the culmination of ten years of strategic development, hard-work, and maturity, and maybe the last chance he gets to prove it.

For me, Rob has not only played his best game of Survivor ever, but perhaps the greatest individual game in Survivor history. Certainly up there with Richard Hatch and Todd Herzog. Playing for the fourth time definitely has its advantages, he has experience of the type of living conditions, and understands the basic elements of the game. But it has its major disadvantages too, because people could hold you in resentment, and base their opinion off of your previous gameplay, look what happened to Russell. But Rob managed to overcome that, and created a cult like group that has helped him make the finale.

Rob has had every corner of this game mapped out. Hidden immunity idols, which were the cause of many problems for him in Heroes vs Villains, he has handled with ease, almost mocking his tribemates in the process. The childish glee with which he tossed the idol clue in to the volcano is one of my favourite moments of the season. He invented corny parlour games and picnics to distract his tribemates, while he went idol searching, and he has seemingly managed to keep it a secret that he has the idol in his possession, still!

Much like in All Stars, Rob quickly eliminated any strategic threat, Francesca and Kristina were sent packing early. And knowing the power a couple can have, like himself and Amber, and Russell and Parvati in Heroes vs Villains, Rob stomped out the potential Matt/Andrea alliance, by sending Matt to redemption island, not once, but twice. He has been able to appease a wildcard like Phillip, and keep him around, even though the rest of his alliance can't stand him. He has made final three deals with at least three separate individuals, and has kept them from talking to each other about it. Rob has been leaving no room for mistakes.
I know people have jokingly referred to Rob's alliance as "zombies", but that's exactly what they are like, he has them under such tight control. Some of his most subtle yet masterful tactics have been how he separated his tribe from the Zapatera members at the merge, making sure that his alliance doesn't sway. Creating separate shelters, having different eating times, and the greatest idea, the buddy system, keeping in pairs so that the Zaps couldn't approach anybody one-on-one. As Julie put it, it is if Rob is running a cult.

Perhaps Rob's best move was taking out Matt at the merge, eliminating a potential swing vote, and making Ralph use his idol at the same time. It put Rob's alliance in firm control, and allowed a Pagonging of the former Zaps to take place. It is now at the stage where the former Ometepes have to start devouring themselves, that means Rob has to start betraying people, something which was held against him in All Stars. So far Andrea and Grant have taken the fall, but with both having the chance to return via redemption island, it throws everything in to question.

So can Boston Rob finally win Survivor? This is certainly the best chance he's ever had, and looking at it on paper, he seems the sure fire bet. But for as much as Rob has controlled every aspect of the game, the new element of redemption island is the one undecided factor. With a majority Zapatera jury, it would make sense that if Mike or Matt returned and made it to the Final 3, they would pick up the majority of the votes (a Matt win would be awful for the show though, he was voted out twice!), possibly Grant too. But if Rob is in the finals against any of the others, he could and should be walking away with the title of sole Survivor, his handling of the jury has been much better than it was in All Stars.




This could prove futile if Rob is voted out before the Final 3, but with a hidden idol that guarantees him a spot in the Final 4, I'd put money on Rob making the Final 3, and it then depends on how he answers the jury questions. It has been ten years in the making, but this Sunday we could finally be adding two words to the front of his name: Survivor Winner Boston Rob Mariano.


by Martin Holmes









survivor-blog likes this